Managing Moisture Around the Field
Evaporation will be your enemy...
Moisture is crucial to keep high-wear areas under control. The areas around home plate and the pitcher's mound are subject to the most wear and keeping moisture in these areas is critical for reducing wear.
Often you'll see tarps covering the mound and home plate. Those weren't necessarily placed there to protect those areas from rain. That's the secondary benefit. The main reason is to keep moisture from evaporating from those areas. If left uncovered, evaporation will cause dry soil to easily break apart, and heavy wear will occur more quickly.
Maintaining and controlling moisture...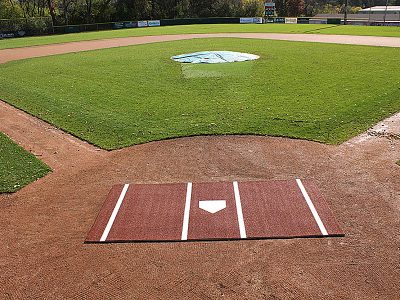 Before you rehydrate the mound and home plate areas, perform the routine repairs to these high wear areas as we described in Module 102: Mound & Home Plate Care. Finish groom the area and then wet them down with a hose and nozzle as that lesson instructed (see the "Finish Grooming of Repaired Areas" lesson in Module 102 for review). Make sure these areas have a little time to set up and stabilize after watering, then cover with a tarp to maintain the moisture.
You need to remove the tarp for game-day batting practice. This will expose these areas to the elements and leave you at risk of evaporation. The use of a hitting mats and pitching mats, like the one shown, can help retain moisture in these areas.
Watch the video on the next slide about controlling moisture with tarps…
Controlling moisture with tarps...
Water first, then make your foul lines...
You don't want to ruin your newly chalked foul lines, so make sure you water the baselines before you mark the foul lines. Groom your baselines as described in Lesson 4: Infield Skin & Game Day Prep. Once you have finished dragging the baselines, give them a good amount of water (weather permitting). Periodically add water when they appear to be drying out.
Then, to apply your foul lines, make sure your baselines have set up (dried) enough for you to operate your chalking or painting equipment on the soil surface. If chalking, the chalk will absorb some moisture helping to "glue" it to the infield soil. If painting, the moisture will help prevent soil from being blown off the surface by your paint sprayer.
Watch the video on the next slide regarding watering the baselines…
Watering the baselines...
Maintaining moisture on the infield skin...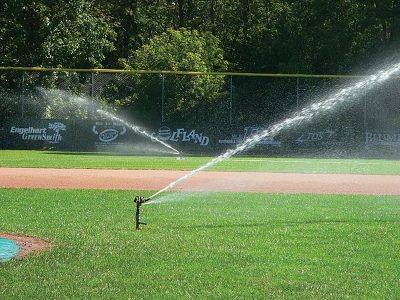 Deep moisture is the objective. The best way to make sure you have moisture penetrating deeply into your infield skin is to give it a good soaking at night — assuming rain is not expected for the next day — when water will have the best chance to percolate through the soil profile without evaporation stealing the moisture away.
Some ballfields have a sprinkler line located near the grass edges specifically for watering the infield skin. If the wind is calm, this works well. But any winds can make for irregular distribution of water resulting in dry spots and overly wet spots. Of course, Mother Nature's rainfall is the only way to perfectly distribute water, but a person with a hose is the next best thing.
Are you asking, "How much?"...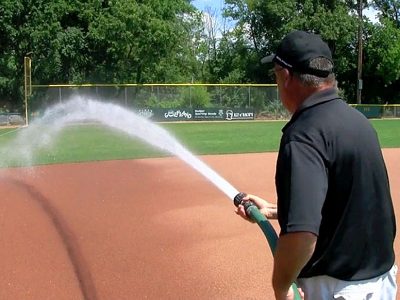 That's a common question, "How much water should I put down?" Unfortunately, there's no easy answer but here's a general guide. Conditions for applying MORE water:
It's hot out;
The air is dry with low humidity;
It's sunny;
It's windy;
The next game is several hours, or more, away.
Conditions for applying LESS water:
It's cool out;
It's humid;
It's a cloudy day;
It's calm with only light breezes;
The next game is scheduled within the 1-4 hours.
All of these factors need to be weighed to help determine the right amount of water to apply. This is where the real "art" of groundskeeping comes in — adjusting on the fly, day-to-day, hour-to-hour, with ever-changing conditions.
It takes a little touch...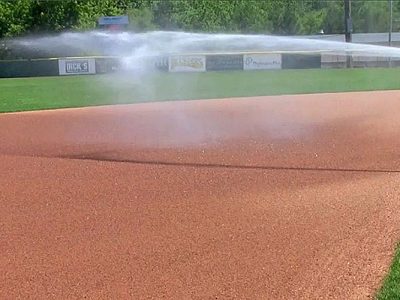 The closer you can get the water falling like a light rain, the better. You want to apply water as uniformly as possible without disturbing your groomed infield. If you blast water directly on the infield, you'll push material around.
Always start with the parts of your infield that are furthest away. Standing on the inner grass, spray toward the outfield grass. A light mist will fall all across the infield closer. A stream pattern will reach far away areas and it can fight a strong head wind. Rock back and forth or jiggle the nozzle up and down to break the stream into finer droplets.
When you add water to areas closer to where you are standing you'll want to widen out your water stream to a fog, creating finer water droplets. Use as fine a fog as you can for areas that are closest to you — home plate, mound, and baselines included.
Watch the video on the next slide for a demonstration and tips for watering infield skin…
Watering the infield skin...
Soak it early, then come back lighter later...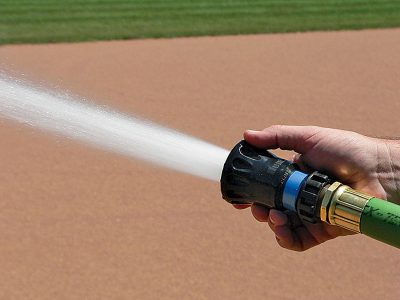 Watering an infield just before game time is tricky business. It is better to water heavy, early on game days to get the moisture in deep so you can come back later closer to game time with lighter waterings.
If you don't have the luxury of early watering on game day it can be a fine line between too much and not enough water. An infield with topdressing will be more forgiving than a soil-only infield.
Pay close attention to the weather forecast to help you determine how much water the infield will be able to take. Also, scratch your shoe into the surface to gauge it's condition to help you determine the soil's moisture level.
General tips for watering your field...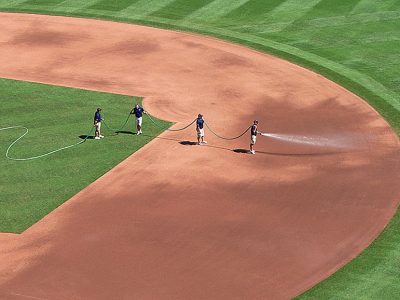 Try sticking with these tips for ensuring you give players the most playable field you can.
Start by watering around home plate first so the soil has plenty of time to set up before game time.
For fields with grass infields, avoid getting water on the infield grass. Wet grass closer to game time can make ground balls slippery for infielders.
Keep the hose from dragging on the skinned infield surface so you don't disturb your finely groomed infield skin.
After watering from the infield grass, drain the hose behind the mound — the area less likely to see a ground ball.
Watch the video on the next slide for more watering tips…
Tips for watering your field...
Let's review...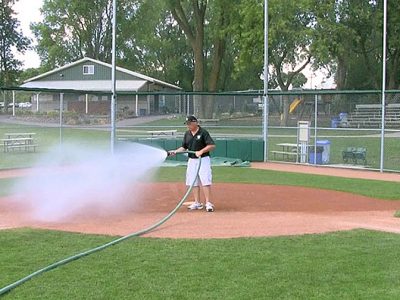 So that's what goes into managing moisture on your field. We've covered a lot, so be sure you remember all of the points made in this lesson.
You may want to revisit the quizzes at the end of each section before moving to your next module. At a minimum, try this Pop Quiz from the section you just completed to make sure you're ready to move on. If you do not see the quiz button below, please log in at GU to take the quiz.